Public health law: making it work for the prevention of chronic disease
Project title: Developing codes of practice as a means of activating new non-communicable disease (NCD)-prevention provisions embedded within the South Australian Public Health Act 2011
Start date: July 2019
Estimated end date: June 2022
What is the issue?
In 2011, South Australia became the first state in Australia to include non-communicable disease (NCD) prevention provisions in its Public Health Act. This means South Australia's Minister for Health and Wellbeing is empowered to declare a NCD and issue a code of practice to prevent or reduce impact. However, these provisions have not yet been activated. This project, in collaboration with Wellbeing SA, an attached office to South Australia's Department of Health and Wellbeing, will co-design codes of practice and process evaluations to inform new policy.
The Minister's powers may be used to regulate how specific goods (sugar-sweetened beverages, for example), substances or services are advertised, sponsored, promoted or marketed, manufactured, distributed, supplied, sold or accessed by the public.
This is significant in stemming lifestyle-related chronic disease. The NCD chronic disease-prevention provisions are the first attempt to transform a core piece of public health law in response to Australia's chronic disease epidemic including type 2 diabetes, stroke, cardiovascular disease and some cancers.
South Australia's Public Health Act 2011 is an example of infrastructural public health law. These laws provide legal frameworks that empower or force public health agencies to act, by defining the scope of their powers and duties. Public health concerns contained in infrastructural public health law, such as core public health acts, have traditionally focused largely on sanitation and communicable disease.
How is the project addressing the issue?
This project is the first to attempt at co-designing this aspect of the law and is, therefore, significant in exploring the contribution law can make in response to emerging public health issues. The project is a collaboration involving policy makers and a group of multidisciplinary public health experts forming a technical advisory group. The research collaboration will play an instrumental role in realising the full potential of SA's NCD-prevention provisions by co-producing codes of practice and a translation strategy aligned with Wellbeing SA's priorities.
The Prevention Centre's collaborative approach where researchers and practitioners work together at all stages of a research project, from problem conceptualisation to developing ways to improve practice, informed the research design. This collaborative project includes a technical advisory group with policy makers from Wellbeing SA, public health lawyers, and population nutrition and obesity researchers. Data collection methods will include a workshop, legal and policy analyses, a stakeholder consultation, and process evaluation. The project's design and methodology will be published as a study protocol to ensure rigour and transparency in public health law research.
Relevance for practice
The project will inform the activation of the NCD-prevention provisions by co-producing model codes of practice reflecting strong public health evidence. It will also provide a framework for embedding NCD-prevention provisions within existing public health law. The research findings will form a useful case study for other states and territories about the declaration of an NCD and the development of associated codes of practice. Long-term, the project will help reduce chronic disease through effective public health law and regulation, contributing to the creation of healthy environments.
What are the expected outcomes?
The project will produce new insights into how to undertake productive research collaborations with public health researchers, from establishing rules of engagement, to priority setting and formulating a research plan that meets the needs of policy makers and researchers. These insights will have cross-jurisdictional relevance for researchers and governments and will enable future policy partnerships.
The research will also increase collective knowledge about applied public health law research and how it can be used to investigate the potential of existing and future public health laws. It will empower policy makers to work with researchers to generate rigorous public health law research evidence needed to make policy decisions quickly and take effective action to improve the public's health.
Learn more
How can we use the law to help improve our health? Prevention Works podcast with Dr Shanthosh
Project lead
Dr Janani Shanthosh, The George Institute for Global Health, The Australian Human Rights Institute UNSW Sydney
Co-lead
Professor Stephen Jan, The George Institute for Global Health
Investigators
Professor Andrew Wilson, The Australian Prevention Partnership Centre
Professor Lucie Rychetnik, The Australian Prevention Partnership Centre and The University of Sydney
Professor Katina D'Onise, Wellbeing SA, South Australia
Nadia Mastersson, Wellbeing SA, South Australia
Adjunct Associate Professor Chris Reynolds, University of Adelaide
Professor Lisa Atwell, Wellbeing SA, South Australia
Professor Amanda Lee, University of Queensland
Professor Boyd Swinburn, University of Auckland
Associate Professor Luke Wolfenden, University of Newcastle
Associate Professor Gary Sacks, Deakin University
Dr Helen Trevena, University of Sydney
Madeleine Heenan, PhD candidate, The George Institute for Global Health
This project is funded by the NHMRC, Australian Government Department of Health, ACT Health, Cancer Council Australia, NSW Ministry of Health, South Australian Department for Health and Wellbeing, Tasmanian Department of Health, and VicHealth.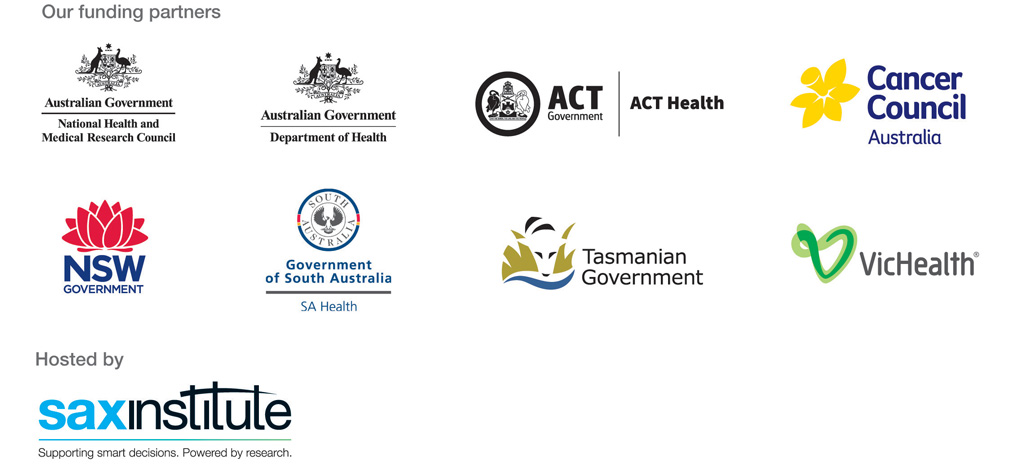 September 2020
Designing and refining our governance and priority setting framework and terms of reference.
Hosting fifth Technical Advisory Group (TAG) workshop.
June 2020
We are currently developing a Policy Development Handbook for use in South Australia.
We have completed our legal analysis of the SA Public Health Act.
We have also undertaken the second workshop with the project's Technical Advisory Group.
Presentations
2020
Day M. Designing and implementing codes of practice. PHAA Preventive Health Conference May 2020.
2019