How do we effectively embed health at all levels of political and policy decision-making?
Project title: Institutionalising a whole-of-government approach to chronic disease prevention
Start date: July 2019
Estimated end date: June 2021
What is the issue?
This project examines the ways in which state and federal governments can ensure that health is taken into consideration at all levels of political and policy decisions across all sectors – including transport, defence, social services – in the same way that the environment is now an integral consideration for major infrastructure projects.
Improving population health must comprise working closely with other sectors, embedding health decisions at all levels. Ensuring processes within governments enables valuable inter-sectoral collaboration (health with the environment, for example) are in place and that important population health decisions are recognised, embedded and implemented.
How is the project addressing the issue?
This project will provide evidence to understand the factors that facilitate the implementation and institutionalisation of inter-sectoral collaboration, such as initiatives including the World Health Organization's Health in All Policy (HiAP), as well as the barriers to their implementation. The project will provide guidance on the optimal design and implementation of these programs including the use of tools such as health impact assessments.
The output from this project will be the development of guidelines for the institutionalisation of intersectoral collaboration for health that are based on best practice and drawn from international and local experience. It will provide government with ideas for how such collaboration can be optimised and evaluated. Ultimately, the evidence generated from this research will help mobilise action toward addressing the social determinants of health by encouraging a whole-of-government and whole-of-society approach to disease prevention.
Relevance for practice
The project is directly relevant to policy makers and practitioners in prevention. Health needs to be considered in major policy and funding decisions across the entirety of government. This work aims to identify the factors that enable such intersectoral collaboration to happen, and how such initiatives should be designed.
The initial idea for this work derived from consultations with funding partners and is therefore co-produced. The questions being addressed in the study deal with live policy initiatives in two states – South Australia and Tasmania – and addresses the universal concern over inter-sectoral collaboration for health. The study provides important research evidence that will be useful to decision makers while formulating solutions in consultation with the end users.
What are the expected outcomes?
The evidence generated will give governments guidance on the implementation of intersectoral programs for the prevention of non-communicable diseases based on best practice from international and local experience. This will enable government to more effectively tackle the social determinants of health and potentially address inequities in health outcomes associated with these determinants.
A review of existing international intersectoral collaborations for prevention of non-communicable diseases undertaken to provide an overview of their success or otherwise, and the factors that contribute to their successes or failures outcomes
The project will review the experiences of implementation of initiatives such as the World Health Organizations Health in All Policies in Australia to date, particularly in South Australia
The project will provide lessons for the optimal implementation of these initiatives, drawing on international evidence, local case studies and consultation with key stakeholders
Establishment of a network of researchers and policy makers interested in intersectoral collaboration.
Project lead
Professor Stephen Jan, The George Institute for Global Health
Co-lead
Dr Janani Shanthosh, The George Institute for Global Health
Investigators
Dr Patrick Harris, Menzies Centre for Health Research
Dr Fiona Haigh, UNSW Sydney
Bindu Patel, The George Institute for Global Health
Rabia Khan, The George Institute for Global Health
Advisory group
Carmel Williams, South Australian Department of Health
Associate Professor Siobhan Harpur, Tasmanian Department of Health
Professor Andrew Wilson, The Australian Prevention Partnership Centre
Professor Billie Giles-Corti, RMIT University
Professor Sharon Friel, Australian National University
Associate Professor Ben Harris-Roxas, UNSW Sydney
Professor Rob Carter, Deakin University
Professor Lennert Veerman, Griffith University
Stephen Conaty, South Western Sydney Local Health District
This project is funded by the NHMRC, Australian Government Department of Health, ACT Health, Cancer Council Australia, NSW Ministry of Health, South Australia Department for Health and Wellbeing, Tasmanian Department of Health, and VicHealth.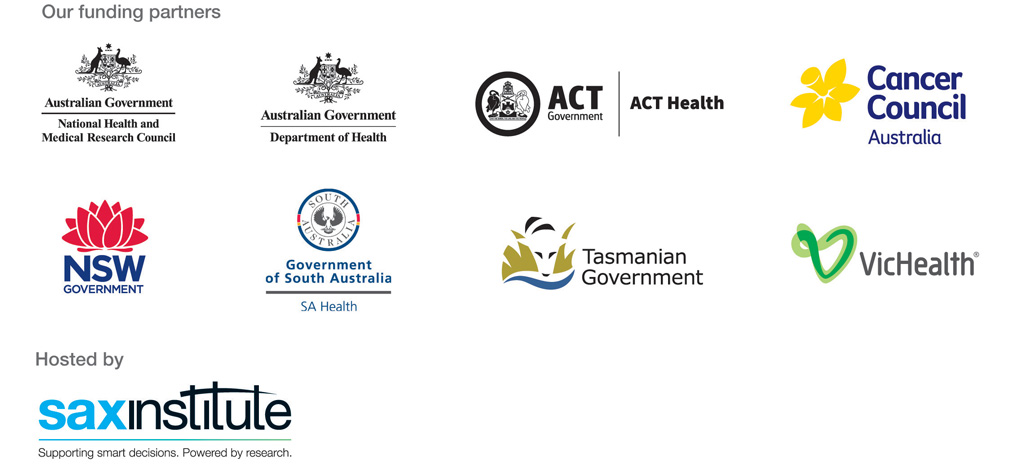 June 2020
As the complexity of partnerships from different sectors are difficult to demonstrate population level effectiveness, we will focus on identifying studies and initiatives that have shown short term impact and indirect long-term health outcomes, in terms of:
Economic and political factors that influence multisectoral partnership
Incentives for non-health sector participation.