Systems approaches in action
Project title: Addressing complexity in prevention research using systems approaches: systems case studies
Start date: July 2019
Estimated end date: June 2022
What is the issue?
Since the Prevention Centre was established in 2013, it has shown the value of systems approaches for research into chronic disease prevention. Systems approaches incorporate systems thinking, systems practices and systems science methods, and are useful when dealing with complex problems such as chronic disease.
Having had several years of applying many different systems approaches within a wide range of individual projects, now is the time to reflect on what can be learned from across the different projects.
This project aims to gain a clearer picture of how systems approaches are being used to describe and understand complex problems. We are also seeking to identify, at a deeper level of practice, whether and how systems approaches are being used to create real world change. It will identify when and how prevention research uses systems approaches to address issues of complexity, and, based on these findings, what the Prevention Centre and those researching more broadly within the prevention system could do differently to enact systems change.
How is the project addressing the issue?
This project will identify and bring together key lessons from a diverse range of Prevention Centre projects on the use and value of systems thinking, systems practices, and systems science tools in applied prevention research.
We will identify up to 10 case studies of former and current Prevention Centre projects that used systems approaches to address complex problems in prevention. We may also select additional case studies from Australia, the UK or Canada.
We will use comparative case study analysis to understand the utility of systems approaches for addressing complexity as it relates to chronic disease prevention, and whether and how they have sought to bring about change in prevention research, policy or practice.
We will use qualitative methods including interviews and group model building to uncover similarities, differences and patterns across our chosen case studies. In doing so we will explore the generalisable lessons that can be synthesised across the Prevention Centre that may be of value to others seeking to use systems approaches in prevention research.
Relevance for practice
This research will illustrate how researchers, policy makers and practitioners can use systems approaches to better work together to bring about change. It will inform policy makers and funders of the key factors that support the use of effective systems approaches, and when, and in what combination, these approaches are appropriate for prevention research.
This project will work closely with members of the Prevention Centre's Leadership Executive and our Funding Partners. Our findings will inform the direction of the Prevention Centre's research into the future.
The findings will also enhance the skills and capacity around the use of systems approaches for those working in chronic disease prevention, policy and practice.
What are the expected outcomes?
The expected outcomes of this project are:
Recommendations and a systems reporting framework relevant for prevention research, policy and practice
A suite of case illustrations, practice examples and peer review publications
Practical guidance on how to improve the use of systems approaches for the prevention of chronic disease.
Project lead
Professor Lucie Rychetnik, The Australian Prevention Partnership Centre, The University of Sydney
Co-lead
Dr Melanie Pescud, Australian National University
Investigators
Professor Steve Allender, Deakin University
Professor Sharon Friel, Australian National University
Advisors
Professor Diane Finegood, Simon Fraser University, Canada
Professor Ray Ison, Open University, UK
Dr Therese Riley, Consultant
Professor Harry Rutter, University of Bath, UK
This project is funded by the NHMRC, Australian Government Department of Health, ACT Health, Cancer Council Australia, NSW Ministry of Health, South Australia Department for Health and Wellbeing, Tasmanian Department of Health, and VicHealth.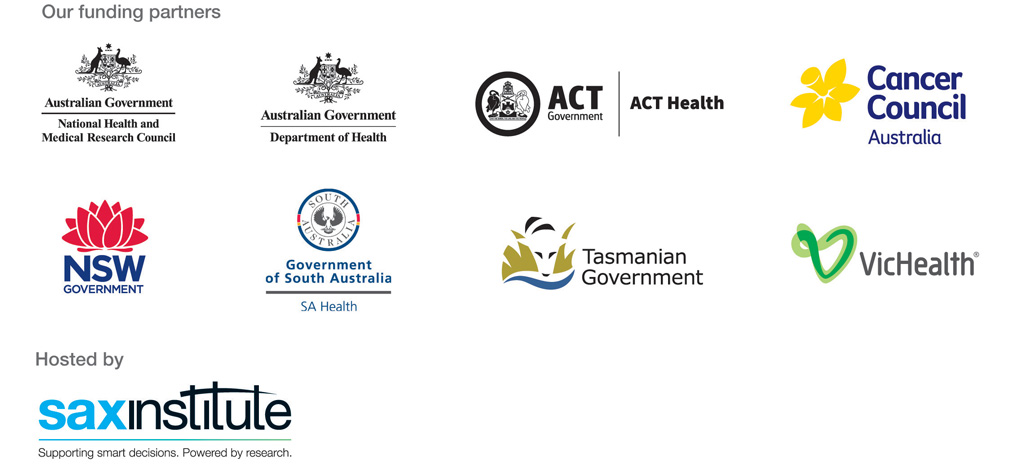 The team have recruited five projects as case studies; four from the Prevention Centre and one external to the Centre. Each of these projects implicitly or explicitly uses or used systems approaches to address complex problems in prevention.
As part of the qualitative methodology, the research team have completed 17 interviews to uncover similarities, differences and patterns across our chosen case studies. Preliminary data analysis has also commenced.
The project team are meeting with their advisory group on a quarterly basis and the investigator group, monthly.
Presentations
2020
Pescud, M. Sharing perspectives: Systems thinking for chronic disease prevention. Shoal Group's Ideas Club, hosted across RegNet and Shoal Group's offices, Adelaide, via video conference, 4 March 2020.