Implementation and scale up
Project title: Methods and metrics for moving from best practice prevention to implementation and scale up
Start date: March 2019
Estimated end date: February 2022
What is the issue?
Much scientific evidence has been generated around chronic disease prevention, but many studies are small scale and in selected participants. To improve overall health in Australia, programs which have been proven to work in prevention need to be scaled up to reach larger populations.
This project will research implementation and scale up in the real world. It aims to enhance the population reach of effective prevention programs, understand more about when implementation happens, and provide methods, frameworks and practice guides for implementing and scaling up evidence-based chronic disease prevention practice (visit the Resources tab on this page).
How is the project addressing the issue?
This project will work with our policy and practitioner partners in five jurisdictions across Australia to develop and test tools to help them assess the feasibility and barriers for scale up. We will apply these tools across several real-world projects. This will provide unique development of the field of pragmatic population health approaches to implementation and scale up (ISU).
Our research and evaluation will build on the expertise of the previous Rapid Response Evaluation Capacity of the Prevention Centre. The research will use both qualitative and quantitative methods and approaches.
This project will carry out work in the following major thematic areas:
Review progress in scaled up prevention research, and research into understanding the lack of translation in preventive practice; research to inform the concepts, frameworks and models of implementation and scale-up of chronic disease prevention programs
Review available tools and develop and test new scale up methods and tools for use in preventive practice
Conduct and support scaled up evaluations and assess programs being implemented at scale, working with stakeholders in the design and conduct of the evaluation of their programs
Conduct specific projects with stakeholders.
Relevance for policy and practice
This project will allow policymakers to understand scale up methods, understand the barriers to scale up, and will allow new approaches to be implemented.
An essential component of this work is the co-creation of knowledge between researchers and stakeholders from the Prevention Centre's partner agencies.
Our team will support our partners and provide advice to new projects. We will also support work in other areas of the Prevention Centre, such as implementation research in the health care system, in synthesising existing research around scale up, undertaking new work around scale up and dissemination methods, and working with stakeholders to support policy relevant research.
What are the expected outcomes?
At the end of this project, we will have developed and tested tools for policymakers to assess the feasibility of scale up and assess the barriers and potential for scale up. These tools will be applied across several projects and once completed available under the Resources tab on this page. We will also contribute to real-world scale up projects across Australia.
Project lead      
Professor Adrian Bauman, University of Sydney
Co-lead
Associate Professor Andrew Milat, NSW Health
Project team
Dr Melanie Crane, University of Sydney
Dr Anne Grunseit, University of Sydney
Karen Lee, University of Sydney
Erika Goldbaum, University of Sydney
Associate Professor Luke Wolfenden, University of Newcastle
Professor John Wiggers, University of Newcastle
Femke Van Nassau, VU University Amsterdam
Heather McKay, University of British Columbia, Vancouver
Siobhan Wong, University of Sydney
Former researchers on project 
Dr Kathleen Conte, University of Sydney
This project is funded by the NHMRC, Australian Government Department of Health, ACT Health, Cancer Council Australia, NSW Ministry of Health, South Australian Department for Health and Wellbeing, Tasmanian Department of Health, and VicHealth.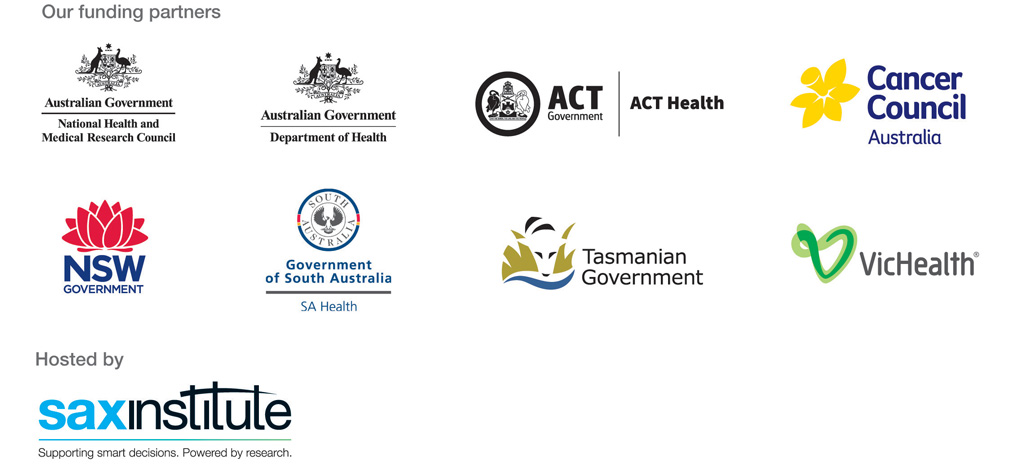 June 2020
Members of the research team have presented the Intervention Scalability Assessment Tool (ISAT) at several conferences and forums and are building capacity around its use with a wide range of stakeholders, including Prevention Centre stakeholders. The ISAT has been well received and will be distributed more widely once published.
Ethics approval has been received to start work in validating the Scale Up Case Study Reporting Guidelines. This is a study conducted in collaboration with researchers from the VU University Medical Center (VUmc) in Amsterdam, using real life examples of scaled up interventions from Australia and the Netherlands. The aim of the study is to produce a set of reporting guidelines that will enable more structured documentation to help researchers and policy makers learn how to more effectively scale up population health interventions
A separate program of work in this area, focusing on scale up at the local health district or region, is underway in Newcastle, led by Associate Professor Luke Wolfenden.
August 2020
We are developing a scale-up network especially in NSW – mapping current activities.
The team has also contributed to several practical examples of scale up evaluation while also continuing our theoretical work around developing the principles of scale up.
September 2020
Evaluation of the Knockout Challenge, a large scale prevention program for Aboriginal and Torres Strait Islander communities in NSW, is ongoing
The team are developing a network and inventory of implementation research across NSW and identifying points of common interest with our TAPPC prevention-focused approaches to implementation and scale-up
The framework of actions in implementation and scale-up research is progressing well, with a new project established in Mackay, Queensland, developing a framework for scale-up of an effective community prevention program.
Factsheet
Guides
The Intervention Scalability Assessment Tool (ISAT) was developed to help practitioners, policymakers, program managers and researchers determine the scalability of a discrete health program or intervention. Information on how to complete an assessment can be found in the guide below. A scoring sheet in Excel is also available to help score readiness questions within the guide.
The International Agency for Research on Cancer, World Health Organization based in Nice, France has translated the ISAT into French for use in assessing the scalability of a number of their interventions in Morocco, with the Moroccan Ministry of Health.
Publications
2021
2020
2019
Grunseit AC, Bohn-Goldbaum E, Crane M, Milat A, Cashmore A, Fonua R, Gow A, Havrlant R, Reid K, Hennessey K, Firth W, Bauman A. Participant profile and impacts of an Aboriginal healthy lifestyle and weight loss challenge over four years 2012-2015. Aust N Z J Public Health. 2019. doi:10.1111/1753-6405.12914. [Epub ahead of print]
Presentations
Adrian Bauman, Andrew Milat. Scale up workshop, The International Society of Behavioral Nutrition and Physical Activity (ISBNPA) conference, Prague, June 2019.
Luke Wolfendon. The International Society of Behavioral Nutrition and Physical Activity (ISBNPA) conference, Prague, June 2019.
Complex program evaluation workshop. International Union for Health Promotion and Education's World Conference on Health Promotion, Rotorua New Zealand, April 2019.
Complex program evaluation workshop. Menzies Institute for Medical Research, University of Tasmania, March 2019.