Compelling case project – Phase 2
Project title: Dynamic simulation modelling to support investment decisions across the common risk factors for lifestyle-related chronic disease
Start date: November 2018
Estimated end date: April 2021
What is the issue?
Despite many major chronic diseases being largely preventable through changes to health behaviours (including poor diet, physical inactivity, tobacco use, harmful alcohol consumption and obesity), only 1.3% of all health spending is currently directed towards prevention programs.
In an effort to establish a compelling argument for investment in prevention and to determine how best to target strategies for maximum impact, the Prevention Centre previously supported the Compelling Case Project Phase 1.
How is the project addressing the issue?
The first phase of the Compelling Case project delivered a proof of concept national system dynamics model of six interacting lifestyle-related risk factors, their related health burden, and several intervention archetypes capable of demonstrating net benefits over the short and long term. It also demonstrated the value of using more textured agent-based models for specific issues at the state and regional level and how these models could interact with the national model to track impacts on local and national performance.
The second phase of this work aims to:
Develop the proof of concept national systems dynamics model into a customised, validated, robust decision support tool to inform national strategies for lifestyle-related chronic disease prevention in Australia
Engage key decision makers in the customisation of the tool and, where possible, build embedded capacity within health departments to use and maintain the tool and generate insights useful for informing policy and planning over the longer term
Integrate and exercise the agent-based models developed during the first phase (particularly the tobacco and alcohol models) to generate inputs for the national model and derive insights for policy, planning, advocacy, communications and publication in the scientific literature.
Like all of our dynamic simulation modelling projects, we are using a participatory approach that builds on knowledge translation methods and brings multidisciplinary stakeholders together to collaborate and explore policy and health service scenarios. The participatory methods place the key stakeholder at the centre of the process.
Relevance for policy and practice
This project will demonstrate to our policy partners that they can apply the national model to support their decision making. We will show that the model can be updated as new data becomes available, making it a long-term decision support asset for best buys in chronic disease prevention and burden reduction.
In addition, the national model will be able to be customised and made applicable to different population levels, such as at state and territory level, in the future.
We are committed to building internal capacity within state, territory and Commonwealth health departments to improve understanding of the value of these decision support tools and build confidence and competence in interacting with them and their supporting infrastructure.
What are the expected outcomes?
The outputs will be:
A model that allows scenario testing and forecasting of the impact of single and multiple interventions and the cost-effectiveness of different combinations of interventions
A range of insights briefs, publications and other visual communications to disseminate the work
A model user guide.
For a more detailed update of the team's progress in building the GoHealth model, download a short snapshot of the project here.
Project lead
Associate Professor Jo-An Occhipinti (née Atkinson), University of Sydney
Project team
Jaithri Ananthapavan, Deakin University
Danielle Currie, Sax Institute
Paul Crosland, Deakin University
Jacqueline Davison, Sax Institute
Haitham Taha, Sax Institute
Stuart Brentnall, Sax Institute
Advisors
Geoff McDonnell, Adaptive Care Systems
Mark Heffernan, Dynamic Operations
Michael Lambert, Sax Institute
Steven Begg, La Trobe University
Former staff on project
Professor Andrew Page, Western Sydney University
Professor Rob Carter, Deakin University
This project is funded by the NHMRC, Australian Government Department of Health, ACT Health, Cancer Council Australia, NSW Ministry of Health, South Australian Department for Health and Wellbeing, Tasmanian Department of Health, and VicHealth.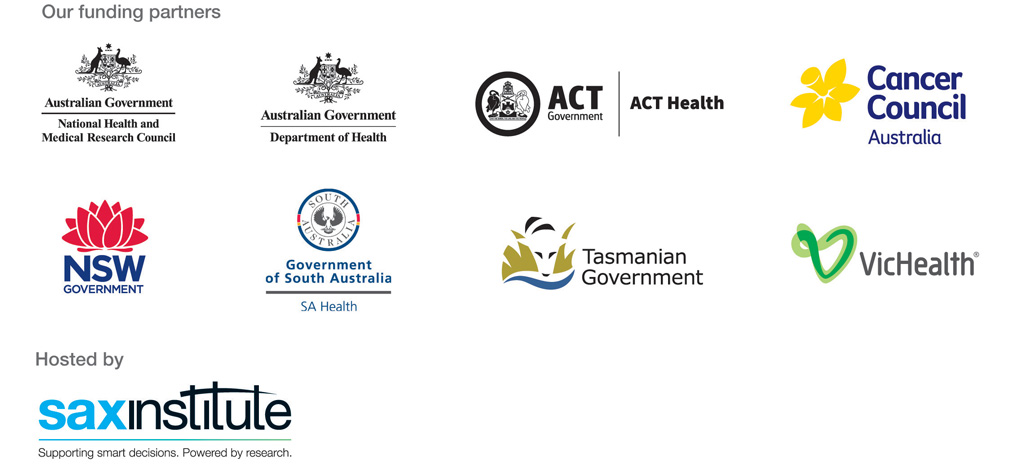 December 2021
The research team provided a preview of the GoHealth model for interested stakeholders in late November 2020. The recording of this event is available here.
November 2020
The research team has developed a conceptual diagram of the proposed model structure. This diagram will be a useful tool for explaining the complexity of the systems dynamics model for phase 2 when engaging with policy makers and other stakeholders.
The research team has completed the individual-level simulation of alcohol drinking behaviour and legislative interventions for the ACT Government, which is now being used to inform policy discussions in this area.
Data collection and engagement with the Institute for Health Metrics and Evaluation (IHME) and the Australian Institute of Health and Welfare (AIHW) has progressed. The data collected will drive the core model structure of disease burden. AIHW have supported and facilitated access to disease expenditure data to inform burden calculations in this model.
The research team is developing an ongoing relationship with the Australian Chronic Disease Prevention Alliance, a key advocacy stakeholder, who will play a key role in interacting with the model in the future and provide expert advice on data gaps and relevant data updates to help improve the model.
Additional data analysis and system modellers were recruited to temporarily replace team members redeployed to work on COVID-19 modelling work.
An abstract on system dynamics modelling methods to simulate multiple common risk exposures was accepted for presentation at the International System Dynamics Society Conference in Bergen, Norway, in July 2020 (will be held virtually).
Planning to identify mechanisms for developing the model as an online interactive tool is now underway.
A webinar is planned for early December 2020 to share initial versions of the model with policy stakeholders. The team are planning to showcase the model in early February to a wider group.
Presentation
Fact sheet
Publications
2019
Crosland P, Ananthapavan J, Davison J, Lambert M, Carter R. The health burden of preventable disease in Australia: a systematic review. Aust N Z J Public Health. 2019;43:163-170. doi:10.1111/1753-6405.12882
Crosland P, Ananthapavan J, Davison J, Lambert M, Carter R. The economic cost of preventable disease in Australia: a systematic review of estimates and methods. Aust N Z J Public Health. 2019. Online. doi:1111/1753-6405.12925
Freebairn L, Kreuger K, Watson C, Yang Z, Prodan A, Graham K, Draper G, McDonnell G, Nixon E, Atkinson JA. "Stopping before you start": Reducing and preventing initiation of tobacco use in the ACT. Proceedings of the International Congress on Modelling and Simulation. Modelling and Simulation Society of Australia and New Zealand, December 2019.
Presentations
2020
Davison J, Currie D, Atkinson JA, Crosland P, Page A, Heffernan M, Geoff McDonnell. Simulating the impacts of lifestyle-related risk factors on the health of Australians: Understanding the complexities of modelling disease prevention. Asia Pacific System Dynamics Society Conference. February 2020. Winning entry, poster presentation. Download poster here (PDF4.6MB).
Ananthapavan J. The economics of prevention. The Public Health Association of Australia's Preventive Health Conference 2020. Plenary address. May 2020.
2019
Crosland P. Economic cost of preventable disease Australia: systematic review of estimates and methods. Public Health Association of Australia Prevention Conference. Melbourne, 12-14 June, 2019.
News stories
2019
Local ABC Radio, interview with Paul Crosland on the systematic review of the health burden of preventable disease in Australia, March 2019.