The synergies of addressing chronic disease and climate change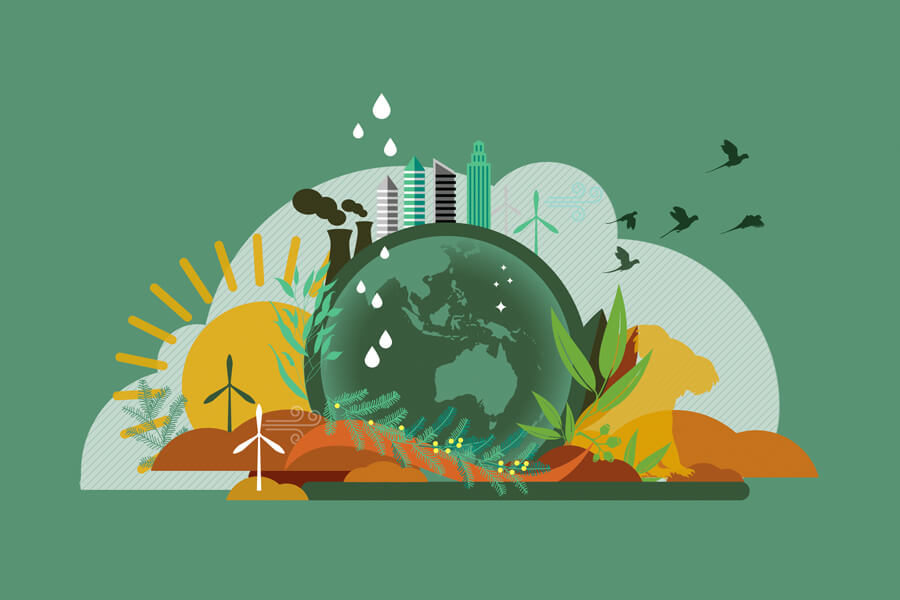 Details
DATE
TYPE Prevention Centre News
A growing number of health professionals have been warning about the impact of climate change on population health. As many parts of Australia still recover from last year's devastating bushfires, the Prevention Centre has been one of the voices highlighting the synergies between addressing climate change and chronic disease prevention.
The Draft National Preventive Health Strategy 2021-2030 noted "climate change is likely to be the biggest challenge to health, wellbeing and economic prosperity" and that this is particularly true for Aboriginal and Torres Strait Islander peoples.
Last week we celebrated NAIDOC Week and the rich history, diverse cultures and achievements of Aboriginal and Torres Strait Islander peoples as the oldest continuing cultures on the planet. The NAIDOC 2021 theme 'Heal Country!' acknowledged that for our Indigenous communities, Country is more than a place and is inherent to identity – spiritually, physically, emotionally, socially, and culturally.
Indigenous land management or 'caring for Country' has been passed down generations over many thousands of years and there is growing recognition of how Aboriginal and Torres Strait Islander knowledges around fire management practices can mitigate the effects of bushfires and care for the environment sustainably.
The Royal Commission into Natural Disaster Arrangements, following the 2019-2020 fires, recommended "Australian, state, territory and local governments should engage further with Traditional Owners to explore the relationship between Indigenous land and fire management and natural disaster resilience".
Indigenous knowledges will also have a major role to play in helping Australia mitigate the impact of climate change according to Prevention Centre Co-Director Lucie Rychetnik who is also a Board Director with the Australian Climate and Health Alliance.
"Australia is one of the most vulnerable countries to climate change impacts and we all need to recognise the importance of Indigenous knowledges to inform how we respond," she said.
Indigenous knowledges also form part of a new glossary for researchers and policy makers to aid multi-sectoral research and collaborations to address health and climate change. The Medical Journal of Australia published a paper this week on the glossary discussing selected new and contested terms and their definitions, and this was also covered in Croakey.
The paper, authored by Sydney University's Matilde Breth-Peterson, Lucie Rychetnik, Alexandra Barratt and Ying Zhang also highlighted the glossary's inclusion of climate anxiety, grief and 'solastalgia'.
The emotional harms of climate change can extend to 'solastalgia''a term coined by Australian environmental philosopher Glenn Albrecht to acknowledge the distress of environmental change and this is especially relevant to Aboriginal and Torres Strait Islander peoples.
The glossary proposes a new definition of solastalgia to cover experiences that may also involve loss of connection to, and integrity of, one's own place, one's home or Country, as well as the resulting sense of isolation.
This uniquely Australian glossary will continue to change and adapt to the growing conversations in the research sector around climate change and health with the Prevention Centre leading some of these conversations.
"All forecasts indicate that heat, drought, bushfires and bushfire smoke pollution are going to be growing and significant concerns for many parts of Australia going forward, and with significant impacts on those with chronic disease," Professor Rychetnik said. "We in the health sector need to prepare and to understand how best to respond and communicate about these issues in ways that are evidence-informed, clear, and compelling."
The Australian Climate and Health Alliance has developed a new guide for health professionals to support those clear and compelling communications.
The Prevention Centre's Future of Chronic Disease Prevention Research Report noted that like climate change, chronic disease is a global emergency causing significant harm to human health and that these are part of a 'syndemic' – a 'synergy of epidemics'. In a related paper published in the Australian and New Zealand Journal of Public Health we noted "The massive threat to human health posed by chronic disease and climate change requires large-scale systems change at a local, national and global level. Addressing these twin threats is a challenging prospect for the 2020s and beyond. However, the reframing of prevention to include environmental 'co-benefits' is an opportunity for prevention research".
These co-benefits were further explored in a more recent Prevention Centre paper on the shared agenda of chronic disease prevention and air pollution (for examples, see Table 1 from this paper). We noted taking "a 'co-benefits' approach by identifying and measuring all of the possible health and non-health benefits, including environmental benefits, would allow researchers and governments to demonstrate the true value of investment in prevention."